In my last post, I introduced the ever-vague topic of Time Management, and concluded that the secret to mastering it was all about adopting the right combination of mindset and methods. For the rest of the post, I got to have my fun spouting off abstract, fluffy ideas about time management in an ideal world where I am a never-failing robot of time management perfection.
In the real world, however, I am a lot closer to a constantly-malfunctioning robot with a serious caffeine dependency. Getting good at time management was perhaps the only thing that saved me from total self-destruction in every aspect of my life. But even now, I still suffer from mental breakdowns (usually and unfortunately in public) and days where I neglect anything that even resembles a responsibility (usually with a Harry Potter Marathon). That never-failing robot of time management perfection could not be farther from who I really am.
To be fair, developing good time management habits relies on the initial creation of a mindset where, for all intents and purposes, you are a never-failing robot of time management perfection. But it's in your time management methods where you start to cut the bullshit, be real with yourself, and ask: how in hell am I going to actually put the mindset into action?
All of my favorite time management tools have two very important qualities to them that make them the best-of-the best, in my opinion:
Below are the tools that I use to keep my shit (mostly) together:
For Organizing Your Day: Momentum Personal Dashboard

Is it wrong to have a crush on a google chrome extension? Dependable, versatile, and incredibly easy to figure out, the Momentum Personal Dashboard has set the gold standard for time management applications. 100% free and with sleek design, Momentum allows you to keep all of your to-do lists, useful links, and reminders all in one place. It even allows you to set a daily goal to keep your day on track – mine usually end up somewhere along the lines of "please get your shit together" or "try not to cry today." And since it replaces that completely useless new tab screen while you use chrome, it'll always be at the forefront of your mind no matter what you're doing on the computer.
For the Daily Dos: Ban.do Agenda and MayBook Dot Book

You may have heard about my minor obsession with planners. I adore my current Ban.do agenda because it's cute AF and extremely useful. But I wasn't totally satisfied with its lack of a daily to-do list, and so I improvised: I haven't been able to find a tool yet that gives me the exact daily breakdown of everything I need, so I DIY'ed that shit and made my own out of my MayDesigns Dot Book. I give myself a general overview of my week in my planner, writing down and color coding everything that is happening over the course of 7 days. I copy out a rough outline of this schedule into my Maybook, adding in a "weekly to do" section full of all of the things I want to have completed by the time the week is over. Every morning, I wake up and create a "daily to do" section, which I'm able to cross reference with my weekly goals and keep my priorities in focus. Not only is it an incredible way to make sure I'm always on top of my shit, it's also my favorite part of my day – there's something incredibly rewarding about having a slow start to your morning, sipping on coffee, and giving yourself a clear path to everything you want to get accomplished.
For The Big Picture: The Commitment Chart
I use this commitment chart to visualize all the commitments I've said "yes" to and decide which ones I really need and which ones I don't. You can read my spiel on the commitment chart here (go about halfway down to "Say Yes to Saying No") or you can download the commitment chart for yourself with instructions for filling it out here.
For the Synchronization: Remember The Milk

I'm a firm believer that nothing can replace a good old fashioned pen and paper agenda, but as an aspiring mobile web developer, I can appreciate a good app every once and a while. Remember The Milk is an app that synchronizes all of your to-dos from every calendar, reminder app, email, or text that you have on your mobile device and compiles them into one easy-to-manage place. It's a good one-stop-shop for getting done everything you need to do, plus the cow on the front of the app is pretty cute.
For the Group Projects: Trello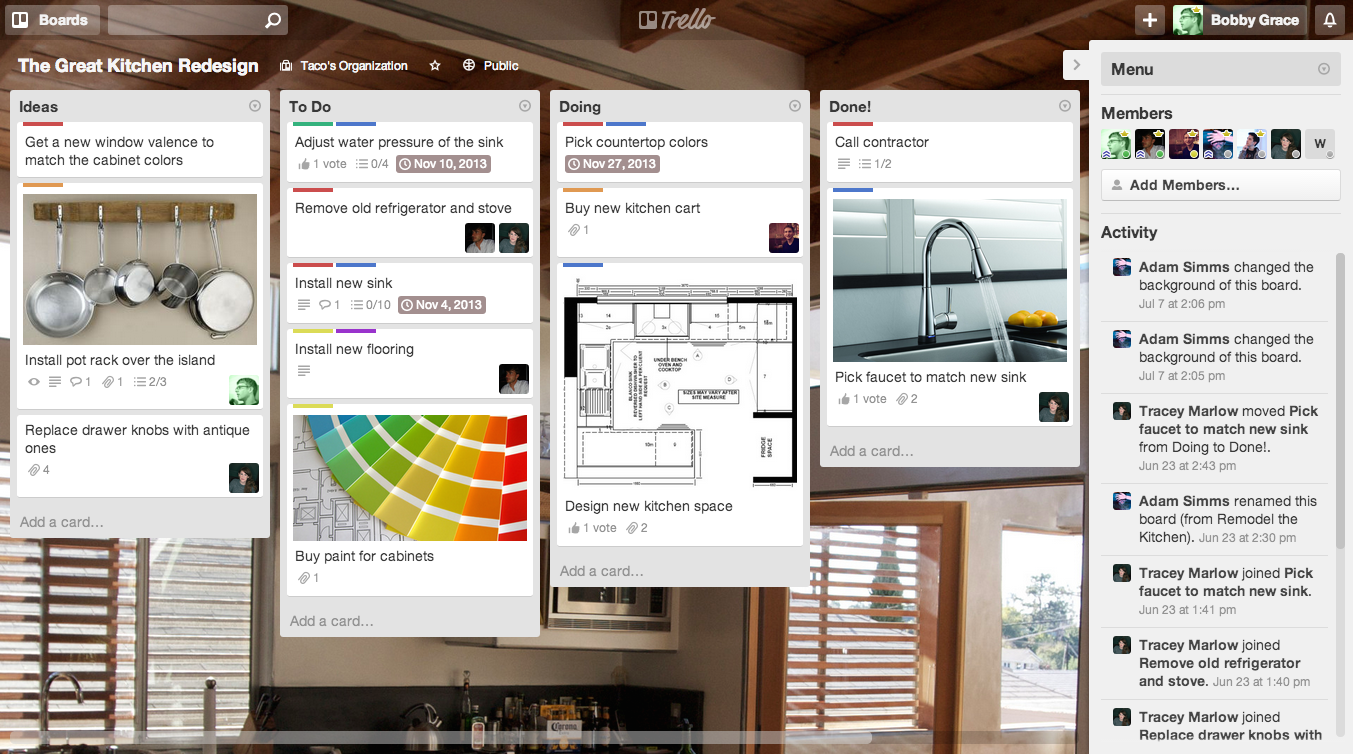 Last but certainly not least is my saving grace in group projects. I hate group projects. I would honestly rather get attacked by a shark than work on a group project. Unlike group projects, shark attacks are generally over pretty quickly, and you don't have to hear the sharks talk about how incompetent they all are as they slowly destroy your well being by tearing you apart. To be honest, I think I would rather work on a group project with a shark than with the people that I end up getting paired with.
But when I discovered Trello, that disdain I felt for group projects simmered from a seething rage to merely a mild hatred. Trello allows you to invite your group members to an editable space where you can create boards to help keep your project on track. You can assign members to certain tasks, create time limits, and make sure that everyone is on the right page on your assignments. I use Trello for pretty much anything I need to do that involves more than two people – the more time I can communicate with technology instead of actually dealing with my group members, the better.
—
Do you have any time management tools that you love to use? If you do, please send them my way, because even with all of this stuff to keep me organized, my life is still usually in shambles.